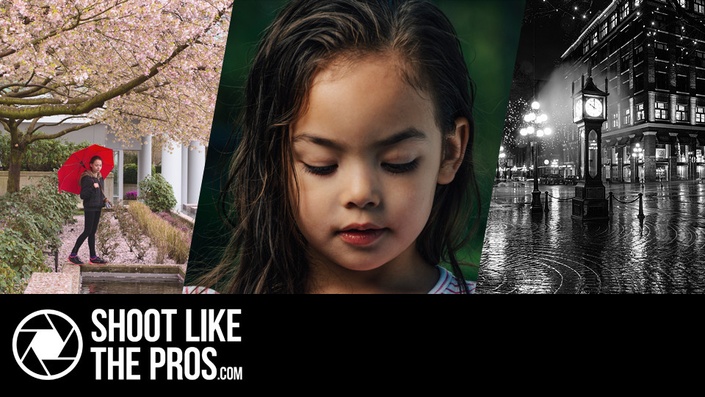 Shoot Like The Pros
I teach photography nuts to completely control their camera, get the shot every time, fill their walls with their photos, and/or make a profit from photography.
Watch Promo
Let me at it!
COVID-19 Crisis SPECIAL TEMPORARY OFFER - OVER 80% OFF!

Due to increased interest in online learning during the COVID-19 crisis, along with financial uncertainty, we have temporarily cut our Lifetime Access price by over 80%! Join the hundreds of people who have already learned to "Shoot Like The Pros" at a fraction of the price! The regular price is $197 USD. AND by the way, you STILL get access to the $190 in bonuses!
(all photographs on this page and in the training videos are taken by your instructor, Ron Comeau)

STOP RIGHT THERE: If you are looking for information on how to take better photographs - the type of incredible photos you see pro photographers display in magazines - I've got news for you. You DO NOT need more information. The information on how to do so is all out there on the Internet and has been for years (it's also in this course).

But you don't need more information. If that's all it took, librarians with cameras would be the best photographers out there.

What you need is a TEACHER.
You need the right teacher, who will speak clearly and demonstrate the simple concepts that have been under your nose for years (hint, they are fairly simple, they are just usually not taught that well, or comprehensively).
That's where I come in. I have taught hundreds of people my style of Manual Mode professional photography over the years, and have even helped launch some professional careers. Now, I'm taking that same teaching and applying it in an online course, so I can teach people anywhere in the world, in less than 30 days, how to shoot like a pro!
Read on and watch the video below to see if you think I am the teacher for you :)

Registration for the VIP Launch of Shoot Like The Pros is now OPEN!

Get all the details in this video:

There is tons of training out there on how to "fix" your photographs in Photoshop, after you have taken them (likely incorrectly).
Finally, here is a proven, step-by-step system of training to get fantastic results "in camera", that will have you shooting like a pro, every time, in a very short period of time!

In fact, with my training you can get there in 30 days or less - guaranteed!

Get these great bonuses! $190 Value!

Bonus 1: 5 Steps to Perfect Sunrises (and Sunsets) - $40 Value
I'll show you everything it takes to capture nature's greatest show that plays every day. The gear I use, the techniques I use, and how to plan for the perfect sunrise portrait to put up on your wall. And here's the kicker, once you learn to photograph sunrises, which are a little trickier than sunsets, you are automatically a sunset master as well!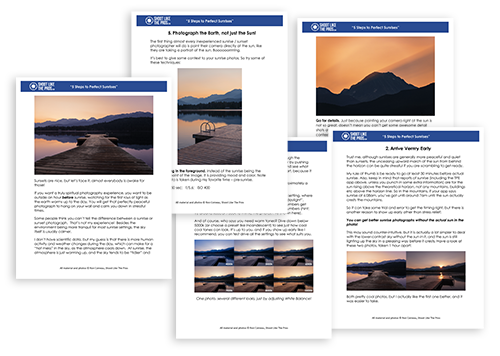 Bonus 2: The Secret to Hitting Focus ALL. THE. TIME. - $40 Value
There is a technique I learned a little later in my career that improved my in-focus rate by at least 25%. Now I'm hitting focus at f/2.8 on a moving subject more than 90% of the time. I share this technique with you.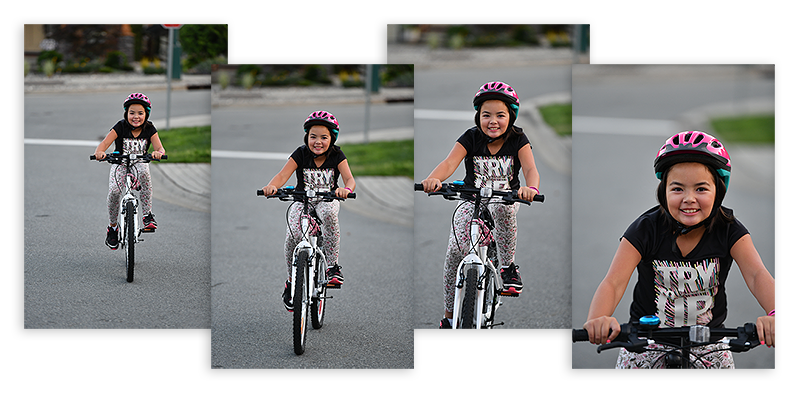 Bonus 3: A Dozen PDF files with a Dozen Photography Lessons - Yours to Keep! - $60 Value
I've included in one place a whole bunch of photo trainings I've done over time that are not included in this course - until now. Learn about flash photography, properly blurring backgrounds, making waterfalls look all smooth and silky, and much, much more.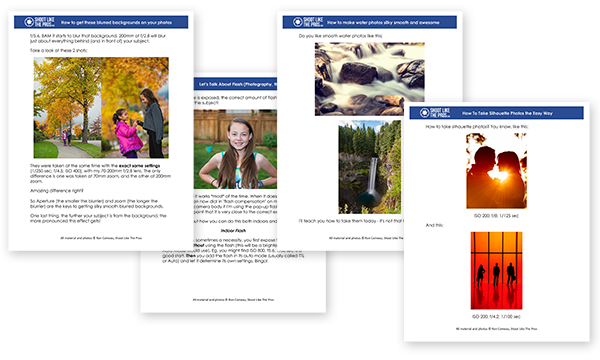 Bonus 4: A 15 minute call with me! - $50 value
We'll connect via phone, Skype or Zoom, and you can ask me anything you want about photography. It can be technical, artistic or career related. I love talking all things photography and sharing my 20 years of professional experience. Normally I charge $400 for 4, 30-minute calls.

These $190 worth of bonuses are here for my students to keep!

I can show you how to take great photographs, straight out of camera with no need for heavy Photoshop editing, in any lighting situation, even if:
You don't have the right gear
Do you have a camera capable of shooting in Manual Mode? That's the entire gear checklist for this course. There are no tricks and gimmicks, no fancy gear required, and no Photoshop or Lightroom expertise needed.
Promise #1: I will teach you good old-fashioned photography skills that will separate you from the masses of people who never learned the fundamentals, and rely on wasting time after the shot to fix their photos.

You are not a "techie" person
You know what? Many of the best photographers in history were not techies either! And if the Internet existed when Ansel Adams was around, he certainly wouldn't be reading up on which lens is 2% sharper than the next. He would be out there shooting!
Promise #2: Shoot Like The Pros is a "jargon free zone". I use plain, everyday language and examples to show you how to simplify the process of photography and get the shot - every time.
You're not ready
Truthfully, if you are able to log onto the web, and you have a camera, then you are ready. It doesn't matter if you are inexperienced at photography (I am looking for people with "an eye" and passion for photography), or if you are already making money from photos (that you are likely wasting time fixing after you take them).
Promise #3: I take you from where you are, to shooting like a pro - in 30 days or less - guaranteed
You are busy and short on time right now

Do you own a television? Have a Netflix account? Then I guarantee you have time for this training. I waste no time on unnecessary material. To quote my online training mentor, David Siteman Garland, "If you want some fluff - go pet a bunny!". You can spend half an hour, 3 times a week, watching the video tutorials, and another 1 or 2 hours practicing with your camera, and you will complete the training in less than 30 days.
That's 5 months quicker than a 6-month night-school course, and many hundreds of hours less than wading through the rabbit-hole of YouTube videos (caution - lots of fluff out there).

Promise #4: You can get the results you want from your photography - the photos you saw in the brochures when you bought your camera - in less than 30 days!
What sort of photos would

you like to master?
Powerful portraits people will pay for? I'll cover that extensively with you.
Sports action and active kids?
Yes, you will learn all my secrets for these challenging photos.

Magazine-worthy Travel, Nature and Landscape photos?
Check, check, check!
Long exposures, night shots and light trails?
Unlock the mysteries, and get creative - you got this!


Tough lighting situations and low light?
How about we make you the boss of your camera and the light, not the other way around!


"Thank you Ron for such an amazing photography course. I feel like I've developed from a point and shoot, 'panic-and-just-go-to-Auto-Mode-photographer' to being a lot more confident with Manual Mode and taking all photos that way, indoor and outdoor. Ron's personable demeanor and ability to explain previously overwhelming concepts in language and applications I can understand has changed the way I take photos. Thank you so much for this course! Just have to convince my family I need more gear :)"
- Jen G.
I'm not sure why you're here today.
It could be that you saw all my free online photography training over the past year.

It could be that you have tried to hack your way through YouTube tutorials and just gotten more confused.

It could be that you are starting up your own photography business (or side business) and want to get the right results every time while showing confidence to your clients.

It could be that you have already started your own photography business, and are spending wayyy too much time fixing your photos in Photoshop or Lightroom.

It could be that you just want to take really awesome photographs!

Whatever the reason, Shoot Like The Pros is the complete, step-by-step system to learn everything you need to know about mastering your camera and speaking its language to get the results you want, in a fraction of the time it would take otherwise.
Course Curriculum
Welcome to Shoot Like The Pros - Watch Me First!
Available in days
days after you enroll
SECTION 1: INTRODUCTION | Module 1 - Intro
Available in days
days after you enroll
Module 2 - Where To Be Smarter Than Your Camera
Available in days
days after you enroll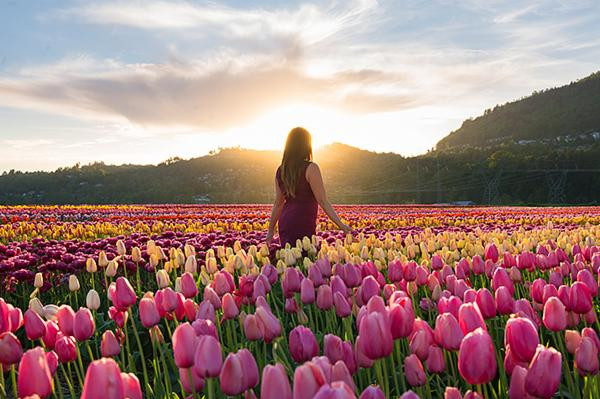 It's time to learn to Shoot Like The Pros!
How much of the above image is Photoshop, and how much straight out of camera? You may be surprised to learn, it is about a 10% / 90% split, hardly any Photoshop required! This is the kind of photography I teach in Shoot Like The Pros.

Your Instructor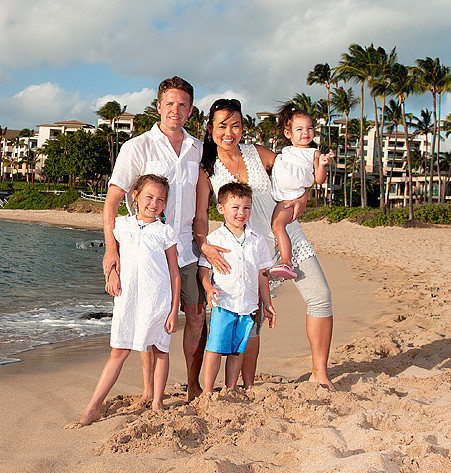 When I was 9, my dad started up a 1-Hour Photo store. By the time I was 10, I was "working" there, testing batteries and loading film (Remember film? Have I aged myself?). Throughout the years, I learned everything I could about what happens from when the shutter is pressed, until a high-quality print is made.

I learned on film, but when digital came around I was hooked for life. The amount of experimentation I could do helped me to master both photographic techniques and Photoshop much faster (I've now been using Photoshop for 21 years).
Fast forward, and I've put in the "10,000 hours" that Malcolm Gladwell recommends for mastery of a subject. I've made all of my income for the past 20 years from photography. I'm now a successful stock photographer "on the side", as well as still running the family business, which has morphed into a photography company specializing in classic portraiture and schools and sports photography.
My photos have been published by: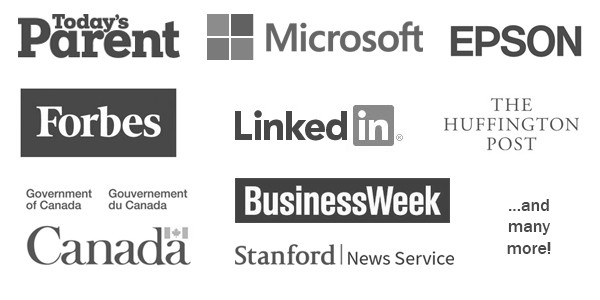 I have a passion for figuring things out and sharing the results with others. I look forward to cutting your 10,000 hours down dramatically!
And yes, that's my beautiful family, and yes, I lugged 40 pounds of photo gear to Maui for vacation. #dedication
Frequently Asked Questions
When does the course start and finish?
The course starts immediately and never ends! It is a self-paced online course - you decide when you start and when you finish. I have designed it so you can finish in less than 30 days, then revisit whenever you want.
How long do I have access to the course?
How does lifetime access sound? After enrolling, you have unlimited access to this course for as long as you like - across any and all devices you own.
How long does it take to go through the course?
If you do things my way*, it will take less than 30 days. * I guess I should explain my way: you watch 2 or 3 modules per week (about an hour's time usually), and practice a couple of hours per week. Then, you are done in about 4 weeks!
Can I download any of the materials?
You can download everything! All of the videos and PDF cheat sheets are downloadable.
Do I have to have specific photography equipment or knowledge to take this course?
No and no. All you need is a camera that shoots in Manual Mode, an open mind, and a passion for great photography. I cover all the basics (even a seasoned shooter will learn something here though), and build on them to get you shooting like a pro. That being said, I do make recommendations on the best gear for the job (which you may already own), and provide a handy Gear Guide.
So is this theory, or a step-by-step system?
Step-by-step! Each of the 10 modules builds on the last. By the end, you will be directing models or groups of people in tough lighting situations, or capturing a beautiful sunset, confidently and correctly right in camera.
What if I am unhappy with the course?
I would never want you to be unhappy! If you are unsatisfied with your purchase, contact me in the first 30 days and I will give you a full refund.
You have a passion for photography

You want to get much better - fast!

You don't want to waste time fixing photos in the computer any more than you have to

You are interested in making money from photography (not a required desire, but this course will help with making money)


You are more of a visual learner than a book learner

You have "the eye" - you have an obvious taste for composition that you and/or others have noticed, and get great joy from being creative

Who is this course NOT for?
You already know it all

You want to watch and learn, but not practice

You don't have internet

You love spending quality time with Photoshop or Lightroom. Not creative time, just quality time rescuing photos.

So how much does this cost?
As I mentioned in the video above, I've checked out photography certificate and diploma programs* that take anywhere from 6 months to 2 years to complete. They are quite good and comprehensive. Particularly if you have no kids, no job, no mortgage and an extra $30,000 kicking around - because that's how much they can cost!
You can also do the patch-together-free-YouTube-videos thing, or maybe you already have. While free (money-wise), it takes a lot of time, and in fact you can easily find unproven, conflicting information that just makes you more confused.
After doing the research, I figured this course, Shoot Like The Pros, could easily sell for $600 USD and be more than worth it, with the huge amount of time and frustration it will save you in your photography journey - particularly if you plan to make money from photography. Remember, I have specifically designed this course to give you the results you seek in 30 days or less.
In order to get as many students through the course as possible and build the word-of-mouth, I decided on an introductory price of $297.
And then, because I want as many "founding students" as possible to go through the course on this VIP launch, I've convinced myself to sell a year's worth of blood, sweat and tears for just $197!

And hold your horses - during the COVID-19 crisis, due to increased interest in online learning, along with financial uncertainty, we have temporarily cut our Lifetime Access price by over 80%!

Now I would like you take a moment, and make a mental list of the dollars you have spent on camera gear. The camera body (or bodies), the lens(es), tripods, filters, batteries, memory cards, camera bags, etc. Yikes, quite the total huh?
Given that list of gear, what is the absolute best photography investment you can make now? It is absolutely not another piece of equipment. For less than the price of a "kit lens", you can turn that inventory into a weapon of mass creation, and finally get the results you have seen the top pro photographers get!

For those (maximum five people) who want a little more, I am offering personal 1-on-1 coaching via phone/Skype. This is to help you set up or optimize your photography business so you can do like I do - make all your income from photography!

(*and by the way, I have nothing against photography certification / diploma programs. You just might want to try out this small investment before deciding if you really want to make that large time/cash investment).
What do I get?

With your enrollment you get immediate, lifetime access to the entire course, plus any future bonuses or updates! There are of course videos for every module, but also written PDF files for you to download and take with you where appropriate (by the way, you can also download the videos so you don't need wifi - hello, bus/train/camping trip entertainment!).
You can go through the modules at your own pace and repeat them as often as you want - I imagine you will download a few key videos to your phone to reference at all times :)
There are also (optional, ungraded) pop quizzes after each video if you are into that type of thing.

You will also get access to my private Facebook Photography Mastermind Group where we can all talk about the techniques learned and share our results!
Do you guarantee results?

Yes! 30-Day Money Back Guarantee: Because I am so proud of this results-oriented training, I am offering a 30-day, 100%, no-questions-asked money-back guarantee!
So far, no-one has taken me up on it :)


"Just so you know, I have been really putting into use this 'secret weapon'...it gets me close to the right exposure setting so much quicker and then I just make my small adjustments from there.
Thanks again for all your info...it is fantastic!!"
Jason G.


"I have taken a few Intro Digital classes before, and Ron is an awesome teacher. I told a few of my friends about your teaching so I hope they do it too. I'm still doing your online course and love it. Love the way you teach."
Lorraine B.